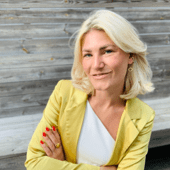 Ellen
Business Developer & Head of People – Sales & Marketing
I thrive on assembling powerhouse teams, driving innovation, and shaping standout brands. I'm driven by the desire to create tangible impact and transformative solutions, together with like-minded people.
Allow me to share a bit about my story with Palats, that might just be the adventure you've also been seeking. 🏰

I joined Palats when it was a three-person startup, operating without a physical office. Despite the small team and humble beginnings, I felt an instant connection with the founders. Their vision was not only compelling, but they were genuinely fantastic individuals who I enjoyed spending time with. I was impressed by their ability to secure numerous significant paying customers within the first year, even though our product was far from being fully developed.
To me, Palats represents the perfect blend of a ground-breaking product with the potential to make the world a better place, and an incredible team that I never tire of interacting with. We're more than just colleagues; we are a group of individuals who inspire, challenge, and support each other on a daily basis.
Since we spend a considerable amount of time working, it's crucial to do so in an environment that fosters growth, collaboration, and mutual respect. Palats embodies this spirit perfectly, allowing us to not only evolve professionally but also to enjoy every step of the journey.
So, if you're a tech enthusiast seeking an opportunity to work on an innovative product that aims to change the world while being surrounded by a supportive and friendly team, Palats is the place for you. 
Join us & be a part of our story, and contribute to building something extraordinary from the ground up. 🌱⇨🌴

I look forward to welcoming you aboard!